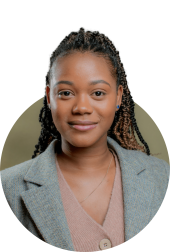 Hi, I am Sarah.
I'm a Data-driven UX Researcher based in the Netherlands
Currently:
PhD Candidate at TU Delft
Researcher and Lecturer at the University of Applied Sciences, Utrecht
Hello and welcome to my corner of the digitalsphere! I am Sarah Mbawa, a data driven researcher focused on user experience research of digital interventions in mental healthcare. I am passionate and dedicated to improving the design of digital interventions for mental healthcare, I embark on adopting a multi-perspective including stakeholders to explore and uncover design and review principles. This website serves as a hub for sharing my thoughts, findings, and adventures in the realm of UX research in mental healthcare. Join me as I delve into the minds of users, decode their needs, and contribute to crafting products that resonate and delight. Together, let's dive into the ever-evolving landscape of human-centered design!
Developing principles for the design and review of digital interventions in mental healthcate: a multi-perspective approach.
Using multi-stakeholder approach to develop principles for designing and reviewing digital applications such as conversational agents, mobile applications and serious games for mental healthcare. Stakeholders include people with mental disorders, mental health professionals and designers/ developers.
This research will include, participatory design sessions; co-design, focus groups, interviews, testing etc. with stakeholders. We will work closely with case studies such as ProtectMe, Empathetic Conversational Agents for Sexual Assault etc. 
My collaboration with HEMD HU
For the mission"Outside Looking In", I dive into the various way inclusion and exclusion can be illustracted and experienced in online spaces. I also draw inspiration from collegue researcher, Saskia Powels who focuses on understanding the instances of exclusion in offline spaces especially regarding Citizen Participation.
Get in touch with me via the contact form or via my socials! 
Get in touch with me via the contact form or via my socials!